Covid: Rishi Sunak to extend furlough scheme to end of March
The furlough scheme will be extended across the UK until the end of March, Chancellor Rishi Sunak has confirmed.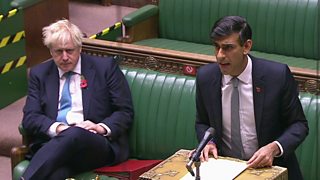 Mr Sunak said the scheme will pay up to 80% of a person's wage up to £2,500 a month. He told the Commons that the government will review the policy in January.
The chancellor said his intention was "to give businesses security through the winter".
"The security we are providing will protect millions of jobs," he added.
The furlough scheme, or Job Retention Scheme, subsidises the wages of people who cannot do their jobs, either because their workplace is closed or because there is no longer enough work for them.
Mr Sunak said it would apply throughout the UK, saying the country had "a Treasury for the whole of the United Kingdom".
SOURCE: https://www.bbc.co.uk/news/business-54824120?fbclid=IwAR1C2jn0OK2__llGKmRds9jcXy4Fs-u8s5YkmtSigk8dwxQ8GYPJWWD4yDQ